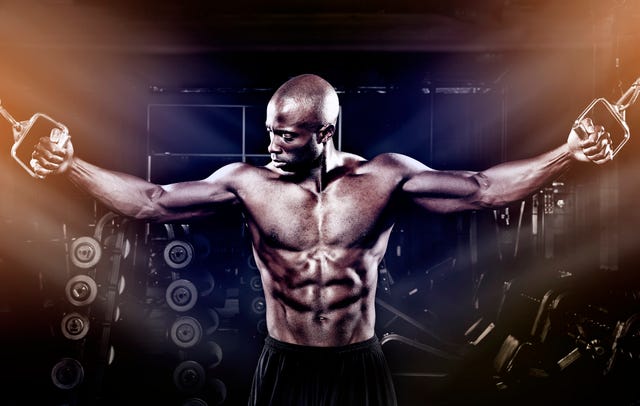 Mondays are renowned in the hardcore workout world as International Chest Day. Meatheads everywhere kick off the training week with set after set of barbell bench press reps to build up their barrel-shaped bodies, grunting and straining to beat their buddies to being strong enough to push the next set of plates. But then, they leave the weight room without hitting a single implement (unless they're heading to the squat rack for a long round of biceps curls, of course).
The Chest-Building Exercise
1 – Bench Press
Sure, we just talked about branching out beyond the bench press. But you can't avoid the exercise if you're serious about training—or even if you just step foot into any typical strength facility in the world. The move is standard for a reason: it works. Let's break it down with dumbbells for some variety.
Do it: This hypertrophy method means you're more focused on building muscle than pressing max weight, so keep your butt on the bench, with your feet flat on the floor and your glutes and core engaged. You should also drive your shoulder blades down into the bench.
Lift your dumbbells up, squeezing the handles tightly. Once your back is on the bench, don't just hold the weights with your elbows parallel to your shoulders. Keep your elbows at a 45-degree angle to help to keep your shoulders safe. Squeeze your chest to drive the weight up, then lower under control under the same path to just above your chest. Drive back up to hit another rep
2 – Chest Fly
One of the absolute go-to chest exercises, the chest fly is all about creating tension through the movement. Your goal is not to flap your arms like a bird to take flight like the name suggests—squeezing is the name of the game here. That means you'll probably use less weight than you might expect.
Do it: Lay on a flat bench, gripping dumbbells in each hand. Press the weights up above your chest, keeping them from touching, with your pinkies turned slightly inward. Maintain full-body tension on the bench.
Lower your arms down moving only at your shoulders, keeping a slight elbow bend. Only go as deep as your shoulder mobility allows. Squeeze your shoulder blades to raise the weight back up to the starting position, and emphasize the squeeze in your chest at the top